Did you know that the Scandinave Spa Whistler has been open for eight years? It is safe to say the secret is out and we are happy to welcome guests from around the world day after day. We are constantly working to refresh our site and improve the guest experience. We are excited to announce that we are re-investing into our site this summer. From big renovations to small décor updates let us fill you in on what to expect.
The Big News
Our biggest project this summer is a full renovation of our original upper steam room. We are full steam ahead on this project and have already started setting by scaffolding to support this project. We will be doing a full demolition of the interior of the steam room the adding new tile and updating the lights. Don't worry, the circular seating and red exterior will remain. Expect a fresh new look when the project is complete in late October. Due to the extensive nature of this renovation, the steam room and adjacent solarium will not be accessible from July 3rd until completion of the project. Construction will only take place Monday – Friday, some additional noise will be heard during these days. We are excited to show you our new look this fall!
Parking
As we have grown in popularity we had to make our parking lot bigger to welcome more guests. We are putting the final touches on this project that we started in the fall. We have added two decorative fences and will be completing landscaping to mark the project complete. With all of this additional space, we would love for all of our guests to park in our main parking lot to take advantage of this updated space.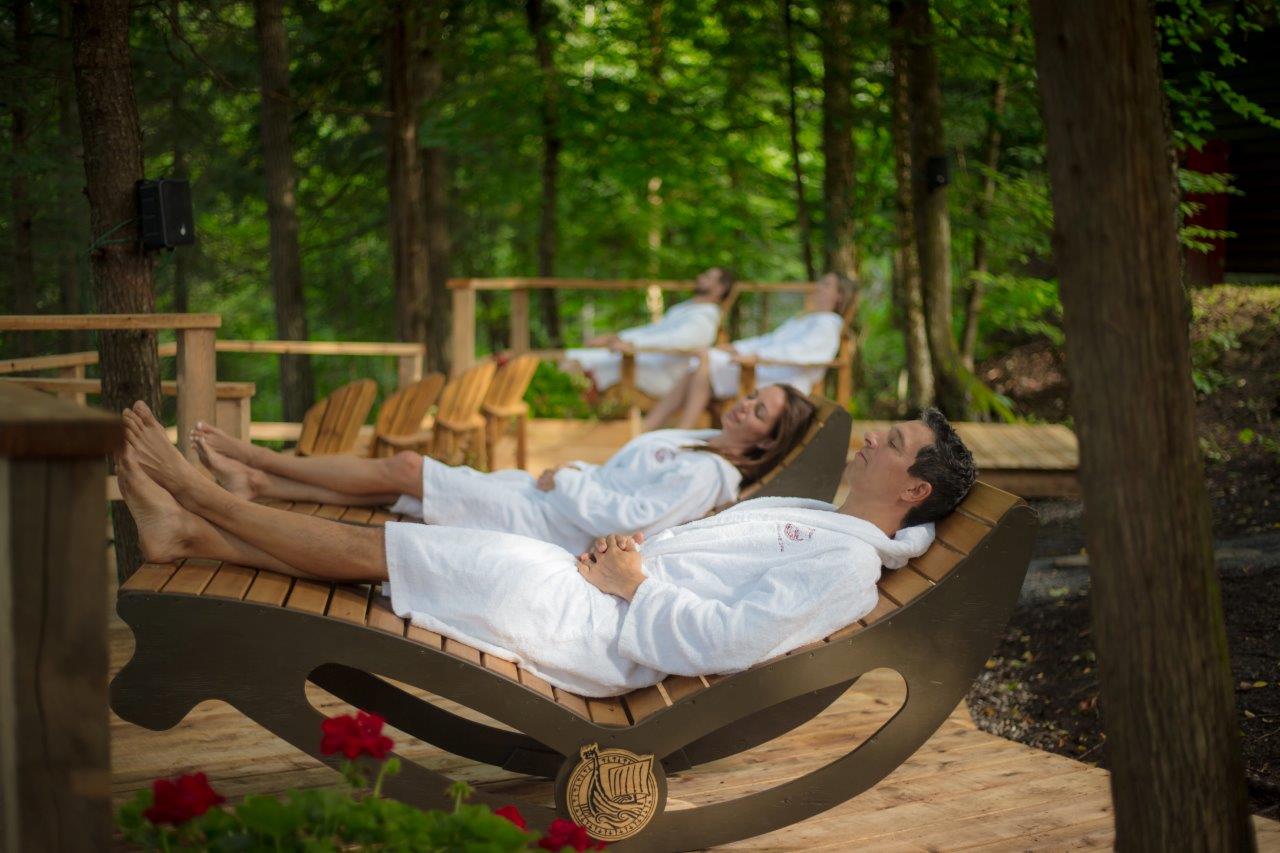 Custom made zero gravity chairs from Mont-Tremblant coming soon!
Décor
While this is a smaller scale job we are planning some very exciting additions and upgrades to the décor around the site. Due to popular demand, we will be adding more hammocks in hammock haven. We have also ordered free standing heated hammocks that will be making their debut this winter. In addition to the hammocks, we will be adding circular daybeds that will be located in hammock haven and around the outdoor areas of the site. We will also be adding custom-made wooden zero gravity chairs. They were first introduced to our Mont-Tremblant location and we think you are going to love them as much as we do. Get ready for more ways to relax at Scandinave Spa Whistler.
Over in the massage pavilion, we will be updating the décor in each massage room with custom-made mirrors and a few other surprises to come.
Thank you for continuing to visit the Scandinave Spa Whistler. We are always open to feedback and are constantly working to make the spa experience better for our guests. Please call us at 604.935.2424 to book your massage or email us at info.whistler@scandianve.com with any questions, comments or ideas for future improvements.