It's not too late to plan a mini vacation this summer.  Time away from work and everyday routines to do some fun activities with family & friends.  Summer is also the season to master the art of relaxation; me-time to slow down and recharge.  Situated on 25 acres of forest & nature but close to the amenities of your everyday life, Scandinave Spa Blue Mountain offers the perfect combination of relaxation and escape this summer.
3 Ways to Visit for the Day
Reserve: Registered Massage treatments or Baths Access can be booked online or by phone. This is the best option to guarantee a preferred check-in time.
Walk-in Baths Access: Guests can walk-up for upon arrival check-in. Great for last minute change of plans or much needed relaxation.
Wait List Baths Access: If the Spa is at capacity, Guests can sign-up to the Wait List to receive a text notification to check-in when there is availability.
For more information on  access to the Thermal Baths experience, visit here.
Additionally, visiting in summer means you have more daylight hours to take advantage of Scandinave Spa Blue Mountain's outdoor spaces and quiet environment. The Spa has added new features to ensure you are getting the most from your mini vacation.
5 Ways to Maximize Your Relaxation
Learn about the benefits of Forest Bathing walking the certified Forest Bathing Trail.
Bring a book (the paper kind) to read while you swing in a hammock or rock in a new lounger.
Try a sample of Blue Mountain tea at the new Tea Station.
Take a few moments to listen to the sounds of nature & wildlife overlooking the pond.
Add-on extra comfort with a Pamper Package or other Spa Collection favourites.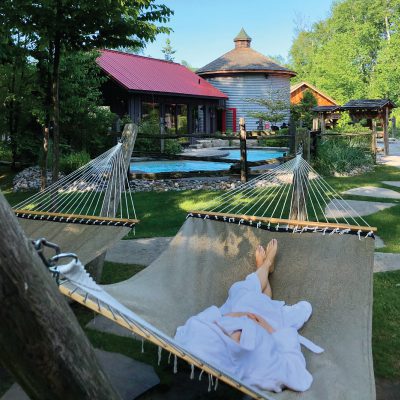 For those who have booked an overnight stay at a local accommodator (Spa Getaway packages), or time to explore before or after your Spa Day, the area includes stunning vistas, beaches, delicious eats & local craft drinks you can't miss. Read on for a selection of must-do adventures below, even if you are in South Georgian Bay for a quick trip.
4 Charming Must See Towns
Collingwood
Once a bustling ship building town, historic downtown Collingwood offers waterfront trails for cycling and walking as well as a variety of restaurants and must try local breweries.
Must Do: Sunset Point
Must Taste: Gibson & Co.
Thornbury
A short drive west from Scandinave Spa along the shores of beautiful Georgian Bay, Thornbury offers beach access, bakeries, art galleries & artisan shops.
Must Do: The Pier & Little River Park
Must Taste: Thornbury Cidery
Wasaga Beach
You can't miss the world's longest freshwater beach (14kms long). Wasaga Beach also has many summer events, activities, and trails to explore while you visit.
Must Do: Nancy Island Historic site
Must Taste: Mr. Norm's Nephew
Blue Mountain Village
Around the corner from Scandinave Spa, the pedestrian only resort village offers mountaintop hikes & lookouts, restaurants, live music and more all summer long.
Must Do: Open Air Gondola
Must Taste: Northwinds Brewery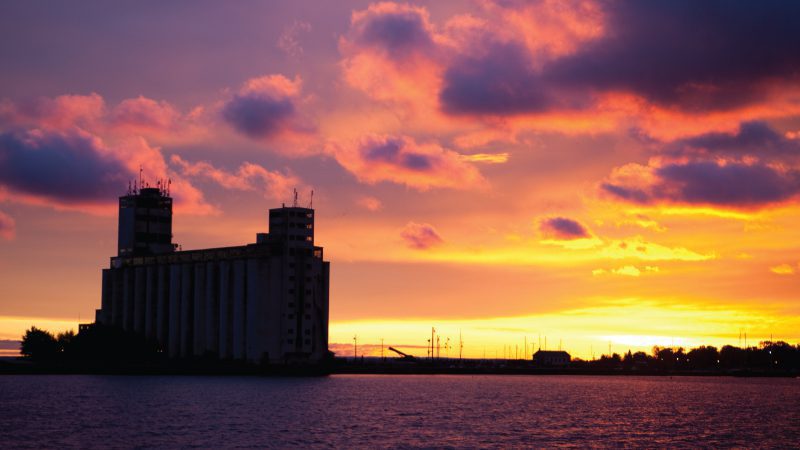 Lastly, the best way to fully enjoy summer relaxing at the Spa, exploring new places or visiting family & friends, is by being organized before you hop in the car. Follow these suggestions to ensure your day trips or mini vacations are always a success.
Important Summer Trip Tips
Familiarize yourself with the area (Google map) before arriving.
Watch the weather when exploring outdoors and stay hydrated.
Pack a cooler to keep local purchases fresh and cold while you travel.
Share your travels with us with a mention on social media!
Other Links
More information about all the events and things to see & do in the area, visit: https://southgeorgianbay.ca/
Scandinave Spa Getaway Packages are available all summer: https://www.scandinave.com/blue-mountain/en/partner-deals/