We have adapted to so many new ways of doing things since March 2020. Making reservations in advance is now the norm, and capacity is limited in our favourite places. Scandinave Spa Blue Mountain has adopted many new policies and procedures too. There are new and important things to know in advance for the best chance to guarantee your visit soon. Read on for some top insider tips to guide you and guarantee your relaxation or visit our website here.
Important to know before you book
Many of us are looking to escape and treat ourselves to a few hours of pampering. You may not be aware that daily spa capacity is 50% of our pre-COVID operations. We are ensuring the proper spacing protocols to make your visit comfortable in all indoor/outdoor areas.  This means there is ample space to relax at Scandinave Spa, but securing a reservation is more challenging.
Plan in Advance
The best chance to get the date you are looking for is to book it as soon as the Massage or Baths calendar opens, especially for weekends or holidays visits. Get familiar with how our schedule works, when your preferred date opens by visiting our website. You can also set-up your account information on the online booking portal in advance and play around online to see how our booking system works. The early bird gets the reservation!
Health & Safety
We continue to follow the required health protocols to ensure your comfort and safety during your visit. Guests are required to show proof of vaccination upon arrival to the Spa. Our staff team has also added other measures to provide more service and peace of mind when you are here. Mandatory health screening, frequent cleaning in all high traffic areas, enhanced hygiene protocols, wearing a mask indoors and maintaining physical distancing help keep our staff, guests and community safe.
Flexible Cancellation
Feeling confident about travel plans is more tenuous for everyone these days. Scandinave Spa Blue Mountain is providing more flexibility to change or cancel your reservations. Changes and 100% refundable cancellation can be made up until 5:00 pm the day before your reservation. Exceptions are permitted in certain circumstances, including health precautions due to COVID-19.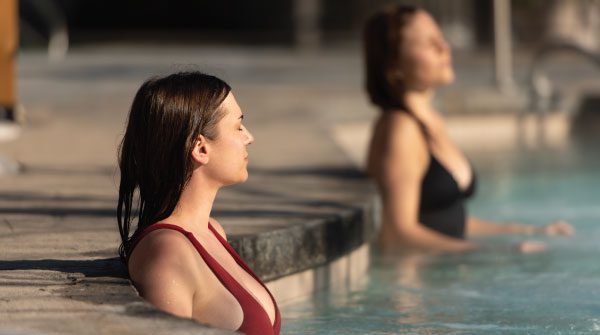 When to make a reservation
Booking Your Preferred Date
Scandinavian Baths rolls on a 4-week calendar (day of the week): Reservations for the Scandinavian Baths hydrotherapy circuit open 4 weeks in advance with new reservations opening daily at 10:00 am. If you want to visit on Friday, November 5th for example, reservations for guaranteed Baths access open on Friday, October 8th.
Registered Massages rolls on a 4 month calendar (date of the month): Reservations for Registered Massage treatments open 4 months in advance by 9am. For example, if you are looking for a Registered Massage on Tuesday, March 1st, the schedule opens on Monday, November 1st. If you are looking to visit during the Christmas holidays 2021, check out our Insider Tips further later in this Blog.
| | |
| --- | --- |
| February reservations | ⇒ open in October |
| May reservations | ⇒ open in January |
| August reservations | ⇒ open in April |
| December reservations | ⇒ open in August |
How to make a reservation
Online is your best option
The quickest and easiest way to book your Spa visit is to use the online booking portal. Registered Massage treatments & Baths Access only reservations are available online. If you do not see a options for a specific date that is supposed to be open, we are fully booked. Check our online portal often, as cancellations and new availability appear often. Weekends & holidays sell-out quickly, why not try a mid-week getaway?
By Phone daily
Guests can make their reservations by calling to speak with a Guest Service Agent from 9:00 am – 7:00 pm. Please note, there may be longer than normal wait times at certain times of the day. If you are looking to book for a weekend or holiday visit, booking online is quicker than waiting to speak to a Guest Service Agent. Keep in mind that Agents are booking from the same inventory as is online.
No Reservation / sign up to Wait List
If being spontaneous is more your style or you are not successful in getting a reservation, you can sign-up for access to Scandinavian Baths Wait List when you are in the area. A new Wait List opens daily at 11:00 am. Access is not guaranteed as it is dependent on capacity limits and wait times vary.  Sign Up Now.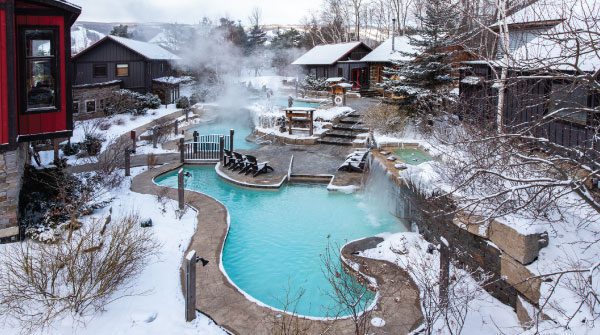 Top 5 Insider Tips:
Plan a season ahead. It's time to think about winter now!
For better availability, book  in the late afternoon or evening.
Weekdays, like Tuesday & Thursdays, are easier to book.
Check out our Getaway Packages or Promotions for special opportunities to reserve. Fall Getaway Packages are available now thru mid-December.
Visit the online portal within 3 weeks of your potential visit to the area for any new availability or cancellations.
Want to visit with someone special but unsure when? Gift Cards never expire and can be redeemed for all products & services.
For the most up to date information about Scandinave Spa Blue Mountain's products and services, visit our website here.