Scandinave Spa Blue Mountain recently commissioned local Biophilic Artist, Heidi Ehlers of Green Love to create two forest-inspired art pieces for guests to enjoy while visiting.  Heidi shares how her connection to nature influences her art and balances her life: 
WITHIN ALL ORDER, THERE IS CHAOS.
WITHIN ALL CHAOS, THERE IS ORDER.
THE BEST BALANCE OF THE TWO IS NATURE.
I have been conscious of Nature since I was 8 years old.  I need to be close to it.  I find it infinitely fascinating.  The endless textures and colours.  The balance between soft and hard. The colours that seem to make each other better – they shouldn't, but they do.
When I was in my late 40's I studied Floral Design in New York.  I highly recommend it.  Back in Toronto at my favourite haunt Ave + Dav, I was always tense when it came time to pick the flowers I wanted to create with.
Then one day I thought, "If you create with beautiful things, what you create will be beautiful."
This thought still helps me find calm every time I create something new because I am always working with beautiful things brought to us by Nature.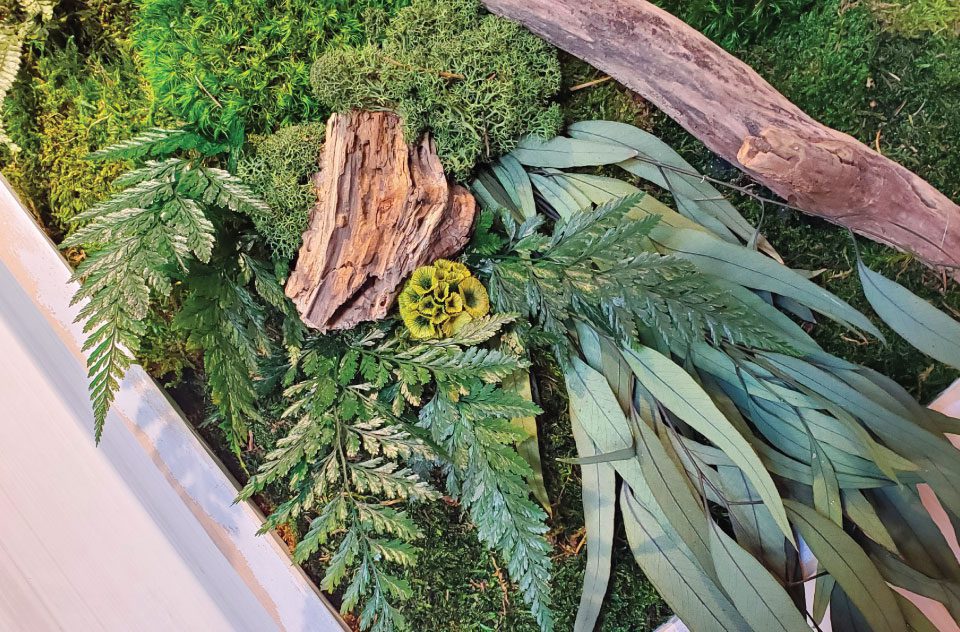 When I build a Forest-inspired Piece, I think a lot about how it feels to be in the forest.
It is a very orderly, yet abstract place to be.  We would know, for example, if the forest was upside down. Inside the order of right side up trees, so many things can be together and complement each other. Seemingly chaotic – but not so. There are so many textures to be seen – and felt – at once.
The forest is a place where problems get solved, where ideas move forward, where answers come.  In the stillness of the forest.  Within the chaos, in the stillness of the forest.
It is my hope that my work connects with people who have known that forest feeling, and want to be reminded of it often.
I am inspired by Nature.
I believe we all are.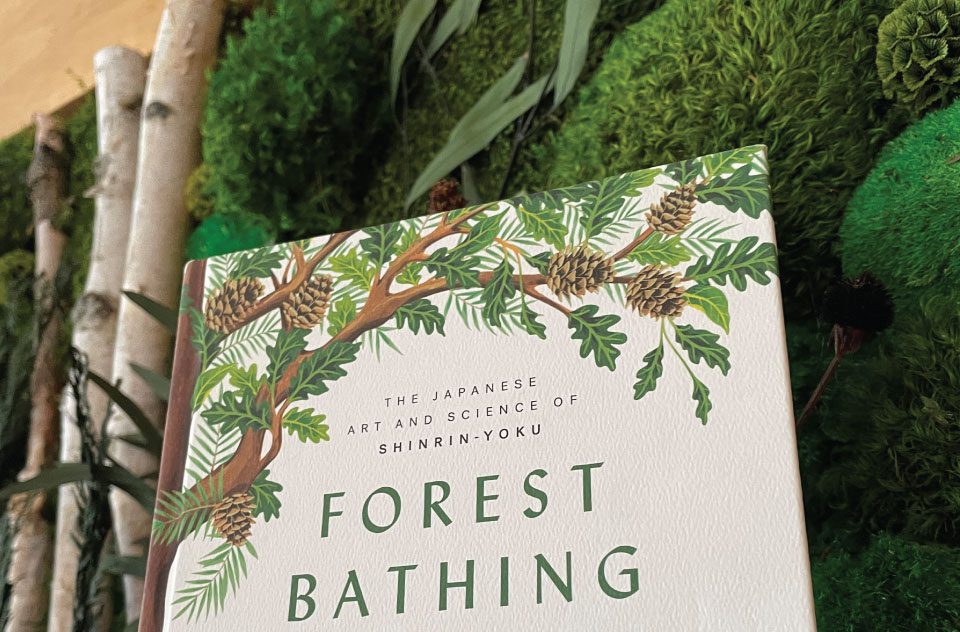 THE FOREST BATHING EXPERIENCE
When your work is inspired by Nature, it is a pleasure to be commissioned to create for Scandinave Spa, a company that at its very core exists to bring people closer to Nature. During one of our recent conversations about Forest Bathing, we shared some of our best tips for making the most of a Forest Bathing experience.
These were mine:
LOOK UP.  It makes everything else seem small in comparison.
LEAVE YOUR PHONE AT HOME.  Just be.  Or set it to silent.
STOP SOMETIMES. Take it in.
VISIT EVERYDAY. 5 minutes is better than no minutes.
VISIT ALONE.  It's freeing.
LET YOUR MIND WANDER. Nothing is off topic.
For more information about Heidi's art, please visit GREEN LOVE.
Scandinave Spa Blue Mountain encourages you to explore your own connection to nature and how you can find balance in your life during these challenging times. For more tips, check out these other Scandinave Spa Blog posts: