Learn about the Spa's online reservations system and last minute tips for access to the Baths Hydrotherapy Activity.
GUARANTEED ACCESS AND RESERVATIONS

One of the benefits of our new normal is that line-ups on our bridge are  a thing of the past, even during busy weekends and holiday times. Scandinave Spa Blue Mountain has implemented an easy-to-use online reservation system. Now guests can book guaranteed check-in times to enjoy the Scandinavian Baths hydrotherapy activity as well as reserve their Registered Massage treatments. We still offer Massage availability up to 4 months in advance online. The Baths are available for up to 3 weeks in advance. So if you have a specific date in mind, we recommend you reserve online as early as possible.
If you do not have a reservation, read on for tips to plan your visit:
RESERVATION CANCELLATIONS OR ADD-ONS
Due to the ongoing pandemic, the Spa has significantly reduced daily capacity which means less Massage Therapy capability and a reduction in the number of guests who can check in for the Scandinavian Baths hydrotherapy activity each day. New protocols and physical distancing requirements mean fewer guests can be visiting at the same time, including a maximum group size of 2 people.
Last minute cancellations and new reservation availability often happens. If you are planning to visit on a specific day but do not have a reservation, keep checking the online reservation portal. All cancellations and new reservation times automatically appear online.  If there is availability, book it. Reservations are the only guaranteed way to experience the Spa on the day you want to visit.
Please visit: ONLINE RESERVATIONS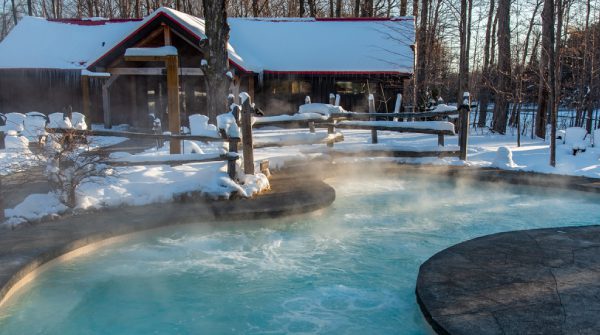 NO RESERVATION? SIGN-UP TO THE WAIT LIST

The new Wait List app is a last-minute opportunity for guests already in the area to get access to the Spa Baths experience. There are a limited number of spaces available on the list before it is "full." Guests on the list are not guaranteed check-in at a specific time and it is possible that Wait List guests will not be able to check-in at all that day. Before you plan your visit, here are other important Wait List tips:
Guests sign-up online:https://waitwhile.com/welcome/scandinavespa
The Wait List is open from 11am-6pm for same day visits.
Maximum 2 people per Wait List entry. Large groups are unable to sign-up together as they are not permitted to experience the Spa together.
The Spa recommends guests add themselves when they are in the area and available to check-in within 1 hour of receiving a text notification.
Wait List check-in cannot be postponed to a later time in the day. Availability is not flexible due to our capacity restrictions.
Guests will be removed from the Wait List if they do not respond to text notifications.
Wait times vary and cannot be determined in advance.
FINAL ADVICE
If you are in the area, looking to après ski or recover after a winter hike, take a little time to relax at Scandinave Spa Blue Mountain. Things are a little different now, but the experience is as rejuvenating and memorable as it always has been.
Plan your visit for less popular times of the week, avoid weekends and holiday times. Evenings are also less busy than morning visits. The Spa is open from 9am-9pm daily.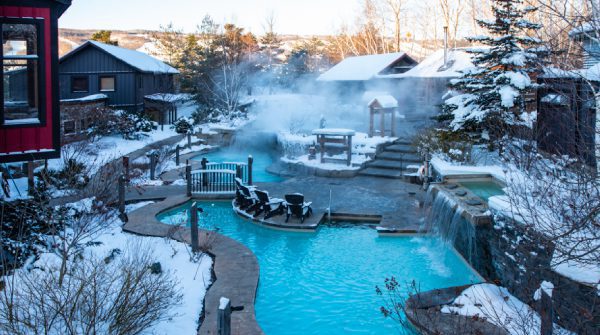 OTHER IMPORTANT LINKS:
Scandinave Spa Health & Safety Information
Grey Bruce Public Health
Please note: Due to provincial restrictions, the steam room and saunas are not open until further notice.