Spring has officially arrived. With the new season and longer daylight hours, we hear the call to spend more time outdoors. There is no better way to enjoy time for yourself than relaxing in a natural environment. Scandinave Spa Blue Mountain encourages you to appreciate the sights, sounds and aromas of spring while you explore our surroundings.  Engaging your senses provides the opportunity to recognize changes to the natural surroundings. To slow down, to breathe deep and to lighten your footprint, literally. If you are in our neighbourhood this spring, here are a few sustainable priorities Scandinave Spa offers while you visit.
Forest Appreciation and Conservation
A portion of the Spa property includes Silver Creek Wetland and plays a vital role as a habitat and spawning ground for a diverse variety of birds, fish and plant species. The significance of this watershed and the intensification of land development in the region is one of the reasons for the Scandinave Spa Blue Mountain has maintained and protected its natural forest. We encourage you to learn more about the Silver Creek Wetland here or by wandering down the Spa's certified Forest Bathing Trail to feel close to nature in a safe, accessible environment.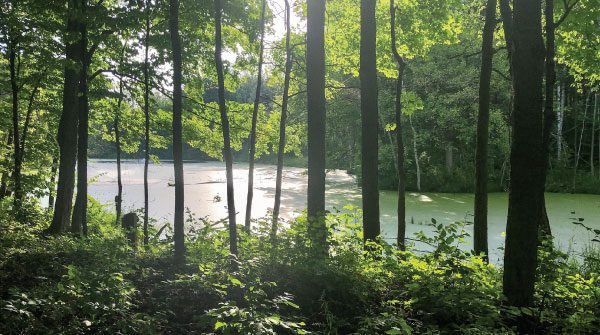 Water Re-fill Stations
To reduce single use plastics, Scandinave Spa installed water refill stations throughout the facility in 2009. Since then, these refilling stations have saved approximately over 2 million, single use plastic bottles from land fills. We encourage Guests to bring their own re-usable water bottle to stay hydrated during their visit or visit the on-site Spa Boutique for a keepsake, eco-sustainable Scandinave Spa signature water bottle to use at spa or home.
Waste Consciousness
Minimizing garbage and food waste throughout the spa property is a conscious choice by us and our Guests. The Spa Bistro offers local, fresh daily and natural food in compostable eat-in or take-away packaging. Other waste products, organics, and recyclables are sorted and disposed of by our Staff team. It is encouraged that Guests limit what they leave on-site by taking it home to recycle and dispose of there.
 More Sustainable Initiatives
Scandinave Spa Blue Mountain has signed the Sustainable Tourism 2030 Pledge, to demonstrate our commitment to improving sustainability performance of our business between now and 2030.
Complete overhaul of the mechanical system for the Thermal Baths environment. Operations are now more energy efficient in all weather and temperatures. Scandinave Spa Blue Mountain is also maximizing heat performance with less consumption and improved capacity to re-use energy.
New, carefully planned and environmentally constructed outdoor relaxation platforms in nestled in the forest. Guests can fully immerse in nature while relaxing in the Thermal Baths experience.
Like conservation programs in hotels and worldwide resorts, Guests are asked to consider limiting the number of towels during their visit and using the Saunas to dry their towels and robes if they get too wet.
To reduce noise and energy use, compostable bags are available for wet bathing suits instead of change room spinners.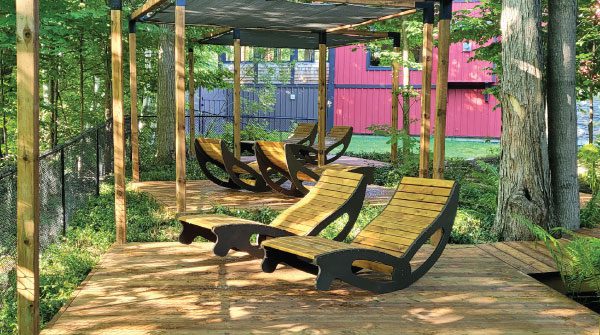 Climate Action Beyond the Spa
"Everything, everywhere, all at once," says UN Secretary-General, Antonio Geuterres. Every day is a chance to respect our planet and the arrival of spring is the chance to renew our commitment:
Earth Hour
Earth Hour is an annual event that brings people together across the globe. This year, on March 25th, people all over will take part by turning off their lights to show support for the Planet. It is easy to participate from the comfort of your own home. Just turn off the lights from 8:30pm-9:30pm (in your time zone) and enjoy the quiet serenity in your neighbourhood. More information can be found here.
Earth Day
Every April 22nd, since its inception in 1970, there are activities, events and celebrations in every neighbourhood to participate in. EarthDay.ca also educates and provides thoughtful initiatives to encourage individuals and corporations to lessen their environmental impact.  Learn more here.
Other Ways to Get Involved
Join the 31-day Protect Nature Challenge #protectnature.
Learn about a new green industry in your province or Canada.
Get inspired by others who are pursuing environmental work.
Looking Ahead
Our actions and intentions matter to our communities and our surroundings. Spending time in nature can help us feel more connected and can provide deep benefits to our physical and mental well-being. Scandinave Spa Blue Mountain is committed to doing our part. We encourage Guests explore the beauty and natural inspiration of our experience, including a self-guided walk along our Forest Bathing Trail this spring.