When the leaves start to change and the snow line starts to slowly creep down the mountain, I'm ready to kick it into high gear. As a personal trainer in a mountain town, this is "go time" for me and for all of my clients. Whether they're daily ski enthusiasts or weekend snowboard warriors, they all know the value of taking care of their minds and bodies before they start tackling big days on the mountain.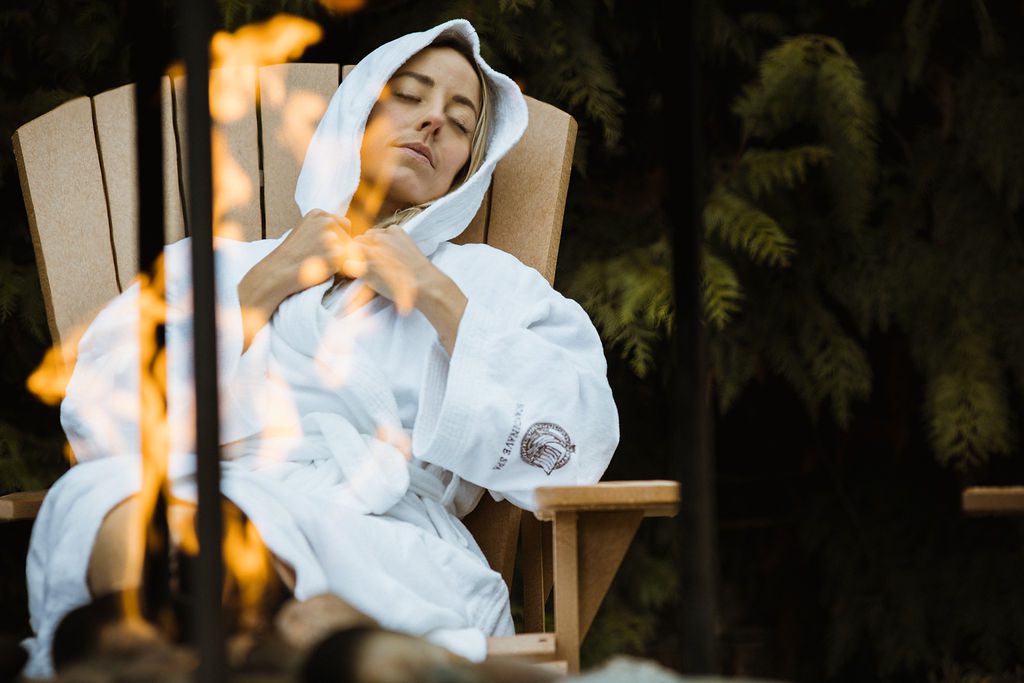 Fall at the Spa
So what does that mean for me? I work long hours with high energy to keep my clients motivated and to keep them progressing until the season kicks off. While maintaining my clients' workouts, I also have to up the ante of my own sessions. I train more intensely and more frequently to get myself prepared mentally and physically for the demand that lies ahead.
We all know the importance of physical preparation – we need to build strength, endurance, and resiliency – before we pound the powder all day long. But what about recovery? This important facet of physical preparation is often overlooked. Sure, we all know how to smash a workout in the gym but what about after the fact? Rarely do I see people take the time to stretch for even a couple of minutes let alone complete a proper recovery process. And no I'm not just taking about flopping around on a foam roller for a few minutes while you scroll through Instagram (you know who you are!) – I mean true, deep physiological recovery.
When I think about effective and efficient recovery, my mind automatically goes to hydrotherapy at the Scandinave Spa. The spa isn't a luxury to me; it's a necessity.
If you've never been to a Scandinave Spa before, you are in for a treat! The cycles of hot-cold-relax are profoundly beneficial to not only your mind but to your body.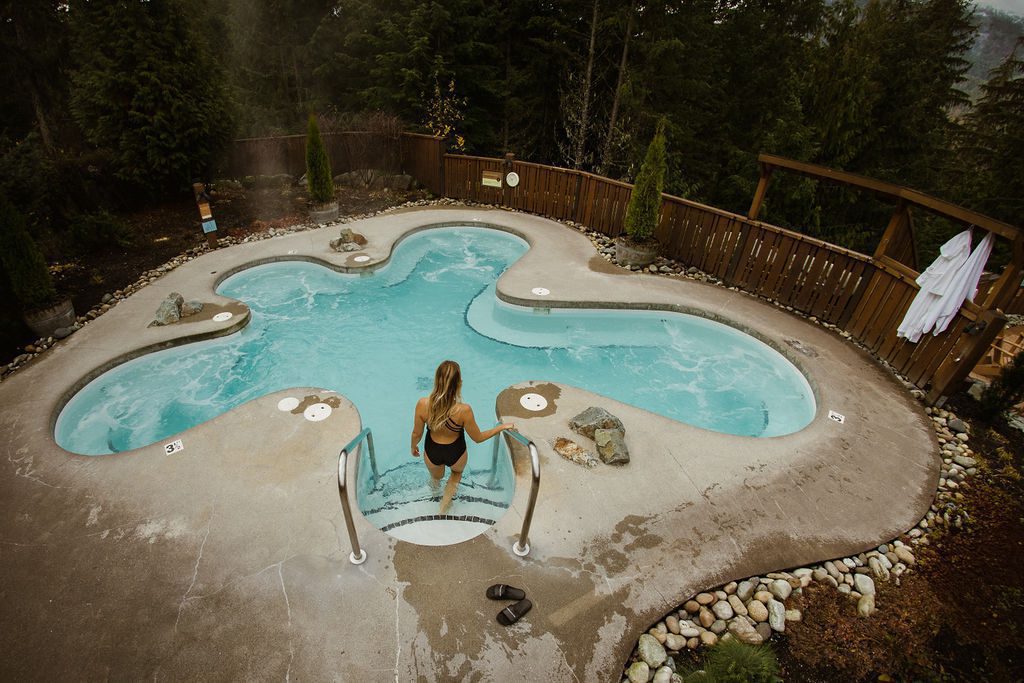 Hot – Cold – Relax
Contrast Water Therapy has been shown to have notable positive effects on quickening recovery time. When we take into account the physiological effects of cooling (cryotherapy) and heating (thermotherapy) on the body, we can appreciate why this methodology is used to improve the recovery of everyone from your average Joe to an elite level athlete. As quoted below for all my fellow science nerds out there, there have been numerous studies conducted that have known the efficacy of hydrotherapy, all of which have been listed here on the Human Kinetics website.
"Higgins and Kaminski (1998) suggested that contrast water therapy can reduce edema through a pumping action created by alternating peripheral vasoconstriction and vasodilation. Contrast water therapy may bring about other changes such as increased or decreased tissue temperature, increased or decreased blood flow, changes in blood flow distribution, reduced muscle spasm, hyperemia of superficial blood vessels, reduced inflammation, and improved range of motion (Myrer et al. 1994). Active recovery has traditionally been considered superior to passive recovery. Contrast water therapy may elicit many of the same benefits of active recovery and may prove to be more beneficial, given that contrast water therapy imposes fewer energy demands on the athlete (Wilcock et al. 2006)."
By increases in overall blood flow and decreases in general inflammation, Contrast Water Therapy has been shown to decrease 'DOMS', which is delayed onset muscle soreness experienced after an intense bout of activity, that feeling we all know too well after participating in a challenging workout or long day on the slopes. Did someone say no more sore legs? Count me in!
Of course I enjoy the physical benefits of the Scandinave experience but more importantly, I find deep value and great benefit from the mental side of things. The time to disconnect from my phone and the chaos of day-to-day business brings me clarity. It opens my mind to visualize and focus on goal-setting of what I want to accomplish this season. The digital detox allows me to calm my thoughts, relax my body and recharge my being to take on another busy week of work and adventuring in the mountains.
We all know that it's good for us to put the phones down, shut off the screens and to focus on yoga or meditation… but if you're like me, you have a hard time doing that. Personally, yoga schedules don't align with mine (most clients want to train with me at the same time there's demand for yoga classes!) and frankly, I don't have the self-discipline to do meditation just yet.
The only way I get "me time" is to grab my book and head to the Scandinave. It's truly one of the few places you can go that's within a short drive where you can be completely immersed in absolute silence.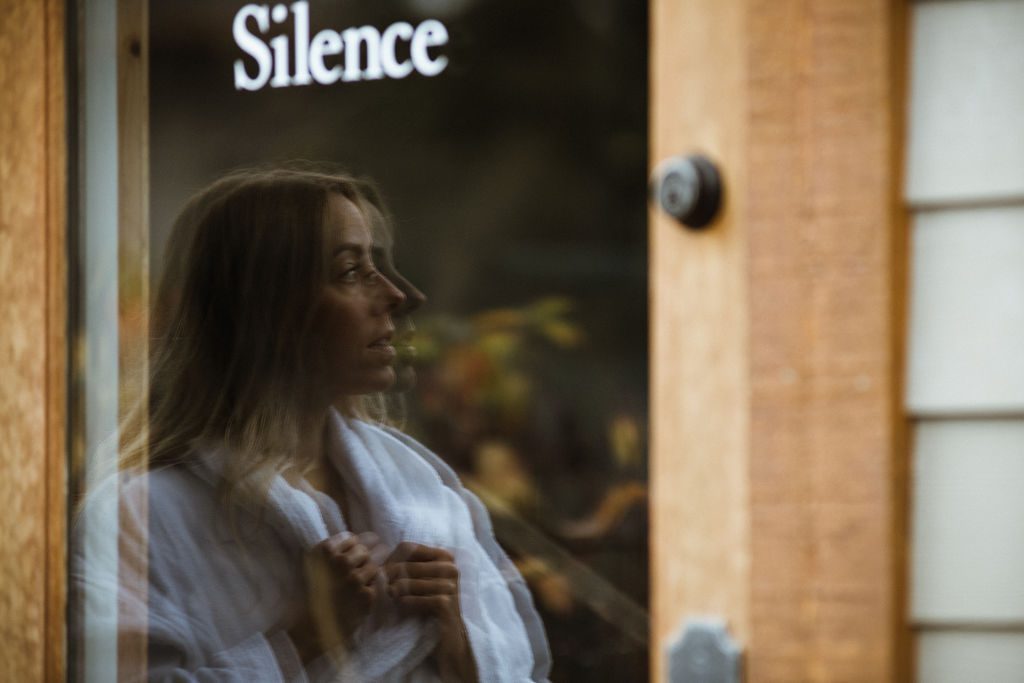 Embrace silence
"True silence is the rest of the mind and is to the spirit what sleep is to the body, nourishment and refreshment." – William Penn
Our busy mountain lifestyles here are so go-go-go that it is imperative to slow down, relax our bodies and recuperate our minds. Though we live in one of the most beautiful places on earth, we're not immune to stress and overwhelm that our daily rigours endure. I see it in my clients all the time – they're so busy running around, figuratively and literally, that they rarely slow down to deeply appreciate this gift we've been given. As a community, we regularly speak of the deep connection we feel to Mother Earth towering around us but it's not until we can sit still in silence that we can fully appreciate what encompasses this unique place we all call home.
Chill out. Find a corner. Read a book. Take deep breaths. Close your eyes.
Recover. Rejuvenate. Hot. Cold. Relax. Repeat.
Ready to visit our Zen Den? Call our reservations agents to book a massage at 604.935.2424 or visit us from 10 am to 9 pm everyday to enjoy the baths.
Blog by Scandinave Spa Ambassador and owner of Peak Training Whistler, Meaghan Sutter