For many Spa Guests, the Baths experience at Scandinave Spa is a few hours of escape from their everyday routine and some relaxing me-time. For others, a spa day includes the full wellness benefits of the hydrotherapy circuit. It really does not matter if you are new to the age-old Finnish tradition of hydrotherapy or know how to maximize the release of "well-being hormones" on your own. Scandinave Spa Blue Mountain offers a variety of options in our spacious, forest-setting for your to try during your next visit.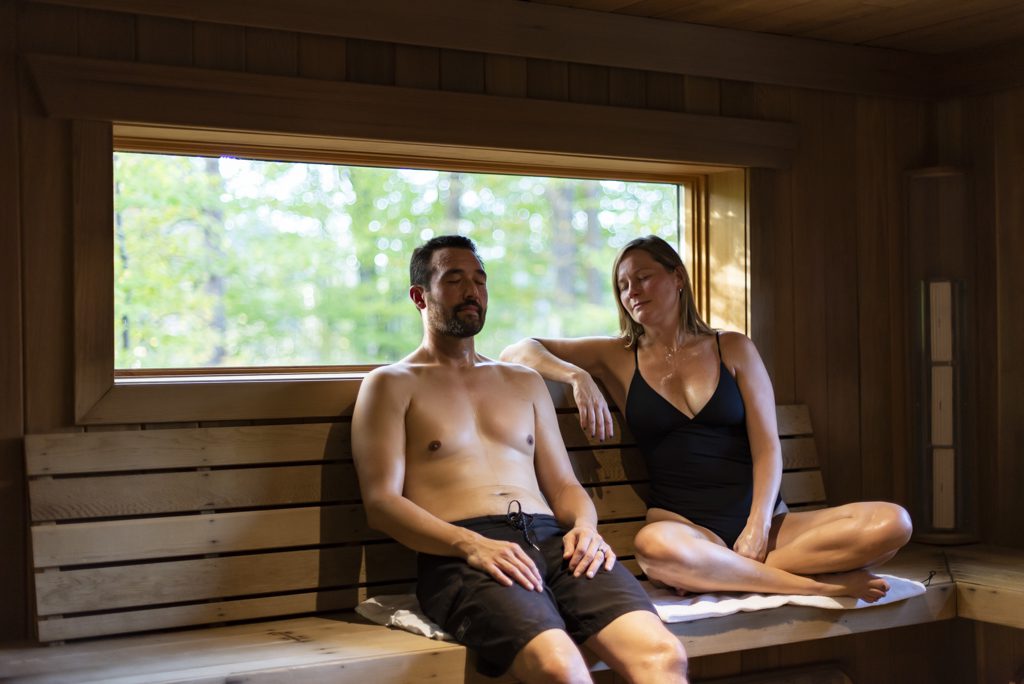 WHAT IS HYDROTHERAPY?
Hydrotherapy is an effective way of releasing tensions in both the mind and the body. Typically, it includes cycling between hot environments to cold then a period of relaxation. It is proven to both energize the body and rest the mind by improving blood circulation and activating the lymphatic system to help detoxification.
At Scandinave Spa Blue Mountain, Guests are recommended to complete the three-step cycle a minimum of three times during your visit. How you choose to complete it is entirely up to you. Because the spa offers many different installations to experience, Guests are free to try the circuit best suited for their comfort level and overall well-being.
Tip:  Look for these icons to help determine what to try and when:
#1 HOT>#2 COLD> #3 RELAX

BEGINNER CYCLE – GENTLE & REFRESHING
The beginner cycle is a good introduction to hydrotherapy and for first-time Guests to Scandinave Spa. If you are nervous about plunging in cold water, start here.
Our recommendation:
Step #1 HOT – spend 10-15 minutes in one of the outdoor Hot Baths.
Step #2 COLD – take 1-5 minutes slow walk along the paths, look up to the trees, listen to the sounds around you. Or if you are up to more of a challenge, walk in to one of the shallow cold plunges up to your knees or a little further for 10 seconds.
Step #3 RELAX – Head to indoor relaxation area for 20 minutes. From here you can spend the time reading quietly and plan out your next cycle.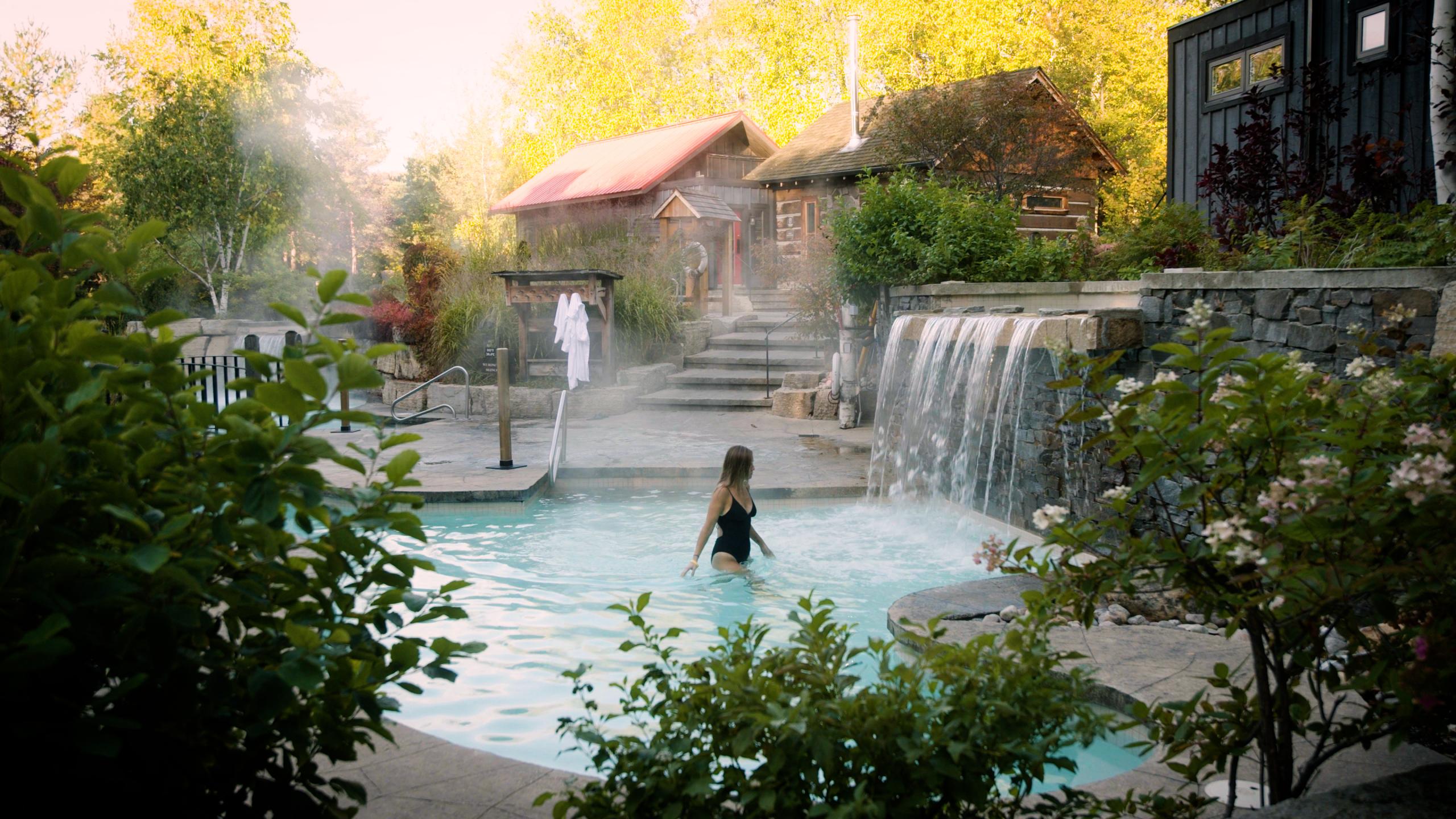 INTERMEDIATE CYCLE – EFFECTIVE & REVIVING
The intermediate cycle is the most popular option. Guests who have visited Scandinave Spa before may be a little more adventurous. Beginners are also recommended to give this cycle a try once during their visit.  This is the best way to feel the full hydrotherapy experience and to feel the benefits of releasing tension, detoxifying and energizing your mind & body.
Our recommendation:
Step #1 HOT – spend 10 to 15 minutes in the Infra-red Sauna or 5 minutes in the Eucalyptus Steam Room.
Step #2 COLD –fully submerged in a cold plunge pool for a least 10 seconds. Take deep, slow breathes. You can do it!
Step #3 RELAX – rest outside around one of the firepits for 15 to 20 minutes. Close your eyes while you listen to the crackling sounds of the fire. Or sit amongst the natural setting in one of the many relaxation areas. Plan to use different installations for your next cycle.
EXPERT CYCLE – INTENSE & REVITALIZING
This cycle is good for guests who practice hydrotherapy on a regular basis or are visiting in the winter months as the variant outdoor temperatures intensify the experience. Spa Members have worked their way up to this type of cycle and make it a part of their weekly routine too. If you want to feel more wellness from hydrotherapy, push your limits and try this cycle during your next visit.
Our recommendation:
Step #1 HOT – spend 10 minutes in the Eucalyptus Steam Room or 15 minutes in the wood-burning Finnish Sauna. Longer if you prefer.
Step #2 COLD – Fully immerse in the Nordic waterfall for a minimum of 15 seconds or fully submerse in a cold plunge pool for 30 seconds or longer. Don't forget to breathe and release any tension!
Step #3 RELAX – Depending on the season, head to a hammock or the new canopy rockers for 15-20 minutes or stretch out on a yoga mat in the indoor solariums for 15 to 20 minutes of restful meditation.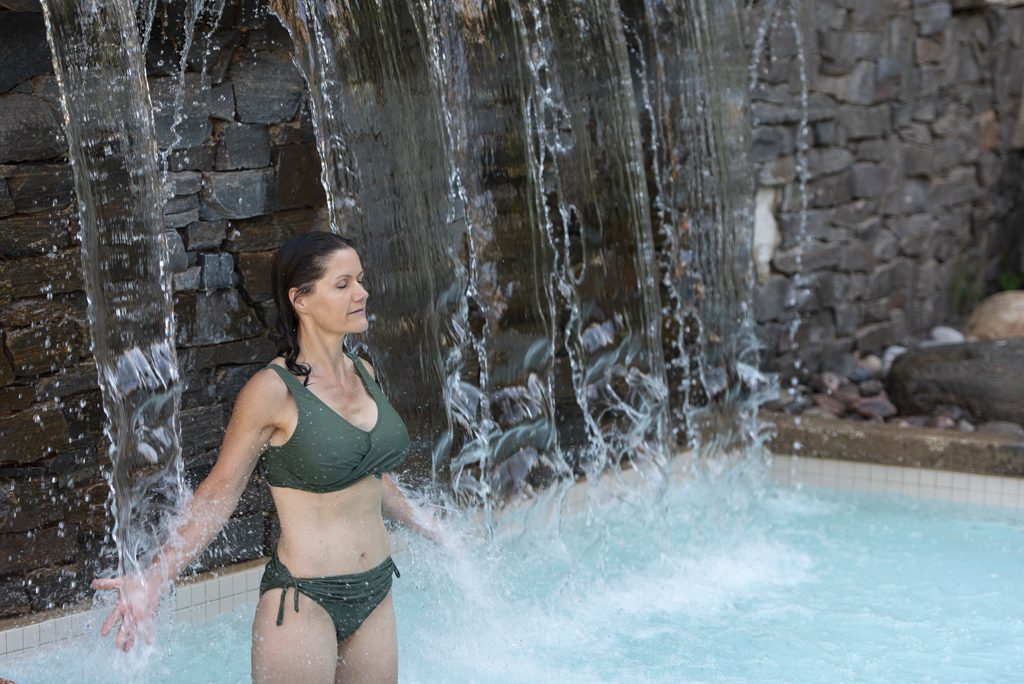 One of the best things about spending time at Scandinave Spa is that Guests can customize their experience to suit their comfort level and health. Taking the time to be here, rejuvenates, refreshes and relaxes your body and mind. Regardless of the weather and season too, the spa amenities and spacious outdoor, natural environment will lift your spirits, improve your wellness and provide a few hours of escape from your everyday routine. Plan your retreat soon.
To learn more about the Thermal Baths experience and its benefits click here.
If you are unable to visit Scandinave Spa Blue Mountain, learn more about relaxation at home, forest bathing and the benefits of nature here.