Life is getting busy and personal wellness becomes more and more important.  Scandinave Spa Blue Mountain is a popular way to transform yourself from restless to rested. This time of year, many find peace and serenity at the spa. Weekends are becoming busier and  waitlists to the Baths are frequently occurring both on weekends and weekdays.
Waitlists provide you the opportunity to explore before you relax. Plan to make your trip to the spa a full day outing. In the morning, head to the spa to add your name to the waitlist. If you are visiting with a group, only one guest is required to put all of your names on the list.
After you are on the waitlist, you are free to leave the spa and see what all of the buzz is about in the region. Whether you are a seasoned spa goer or looking forward to your first visit, there are lots of new exciting things to do in the Blue Mountains and Collingwood area this winter.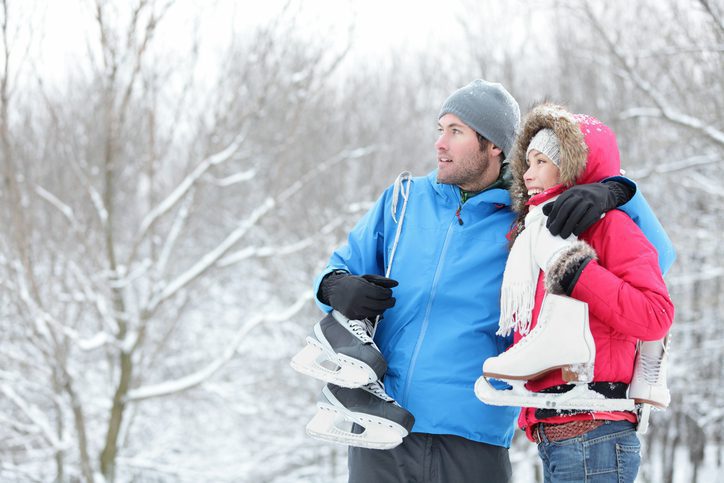 Skating Taken to New Heights
Coming this winter, Blue Mountain Resort has added a 1.1 km skating loop at the top of the ski hill.  For years, skating on the Mill Pond in the Blue Mountain Village has been a tradition, but Woodview Mountaintop Skating takes it to a new level. Pair the scenic frosty views over Georgian Bay with a mug of hot chocolate. The skating loop is accessible from the parking lot on top of the mountain and skate rentals are available on site.
Energy to Fuel Your Day
A new foodie find had come to Collingwood. Freshii offers quick and nutritious meals with an assortment of tasty salads, wraps, bowls, burritos, soups and smoothies to fill you up.  A quick meal will give you more time to shop in all the unique and quirky shops in downtown Collingwood. You will leave with a full belly and shopping bags full of authentic and handmade treasures, ready to spend the rest of the day relaxing at the spa.
Sips at Gibson & Co.
Gibson and Company is a new bar located in downtown Collingwood. You'll find the entrance to this hidden gem along a narrow alleyway (no joke). Once inside, you will find an inviting and relaxing space. This is the perfect location to enjoy a steamy mug of tea, fresh brewed coffee, a cold beer, or a glass of aged whiskey. Gibson and Co. has an assortment of snack foods from sandwiches, chocolate, desserts, and cheese platters. These are perfect to share with a group.
Something to Crow About
The Crow. Bar and Variety is one of the newest editions to Collingwood. If you are familiar with the Bruce Wine Bar in Thornbury, you will be pleased. The Crow was created by the same talented owners of this gem. This lunch and dinner restaurant features local shareable plates, signature cocktails and live music four nights a week starting around 9 pm.  Follow their Facebook page to learn about upcoming live music events.
Keeping it Fresh
A regularly updated menu, keeps Sisi's in Thornbury fresh. Their new chef brings Italian and French influences to their Canadian contemporary menu. In addition, they use cooking methods from around the world. All dishes are paired nicely with an Ontario craft brew or a glass of wine from their international selection. If you are looking for a classy dinner out, this is the place to go.
Check for Current Events
From art shows to holiday markets to music festivals, the Blue Mountains and Collingwood area have exciting events and festivals taking place over the winter. Take a peak through the following websites to see if any events spark your interest.
Waitlist Tips
Always check waitlist times ahead of your visit. Call Scandinave Spa Blue Mountain at 1 (877) 988-8484 or check Twitter for waitlist updates.
Waitlists are often finished after 6 pm allowing us to welcome walk-ins.
On the busiest days, it is possible that the waitlist will be capped or that everyone on the waitlist may not be checked in.
Plan a midweek trip the spa and try to avoid holidays and weekends. This helps reduce your time on a waitlist and provides a more relaxing visit.
Winter weather can change in a moment. This may result in unsafe driving conditions, therefore book a hotel the night before or be prepared to stay overnight if the weather changes.
Book a massage to ensure access to the spa. Find additional tips to ensure entry to the Baths in our How to Manage Bath Access blog.
Plan to make your trip to Scandinave Spa Blue Mountain a full day outing. Collingwood and the Blue Mountains have numerous activities for you to make the best of your wait.
Plan your Scandinave Spa Blue Mountain experience in advance to avoid disappointment and ensure a smooth and relaxing visit. If you have additional questions, please call one of our Guest Service Agents at 1-877-988-8484 or refer to our full list of Frequently Asked Questions. We look forward to seeing you.