For the past two years many of us have been struggling to adjust to a "new normal" of constant change, unknowns, social and essential restrictions, and more. With working from home becoming the standard for most workforces, and overtime hours the norm for healthcare and frontline workers, our priorities shifted from self-care to survival mode. These are conditions that humankind was not built to endure, let alone endure without access to supporting resources.
After being deprived of so much me time, or self-care time (whatever you like to refer to it as), NOW is the time to do something good for your body, mind, and soul. Now is the time to start filling your cup back up, and be proactive about your personal health and wellness. More than just a spa, Scandinave provides a unique combination of hydrotherapy, with the solitude of being outdoors and surrounded by greenspace. Nestled on 25 acres of the Silver Creek Reserve, and the Niagara Escarpment biosphere, a trip to Scandinave Spa Blue Mountain provides a sense of serenity that's unmatched from any other spa experience.
Back to Nature
Did you know that doctors now prescribe "time in nature" to their patients? Forest bathing, or forest therapy, has actually been proven to lower cortisol levels (aka the stress hormone). If this practice is integrated into one's life, it can promote health and wellness in so many ways such as, lowering blood pressure, alleviating headaches, asthma, and even heart problems.  Not to mention it can substantially decrease levels of stress, anxiety, anger, and depression. As we enter into the spring season, and the reawakening of nature, the Spa provides an opportunity to reconnect with the sights, sounds, and smells of the forest coming alive again.  The Scandinave Spa Blue Mountain has perfectly integrated opportunities for forest bathing through relaxing seating areas under the robust trees, and also a beautiful, and well-maintained self-guided forest bathing trail.  The trail includes 8 invitations along the way, encouraging you to walk the trail barefooted, and engage more deeply with the natural landscape through your senses.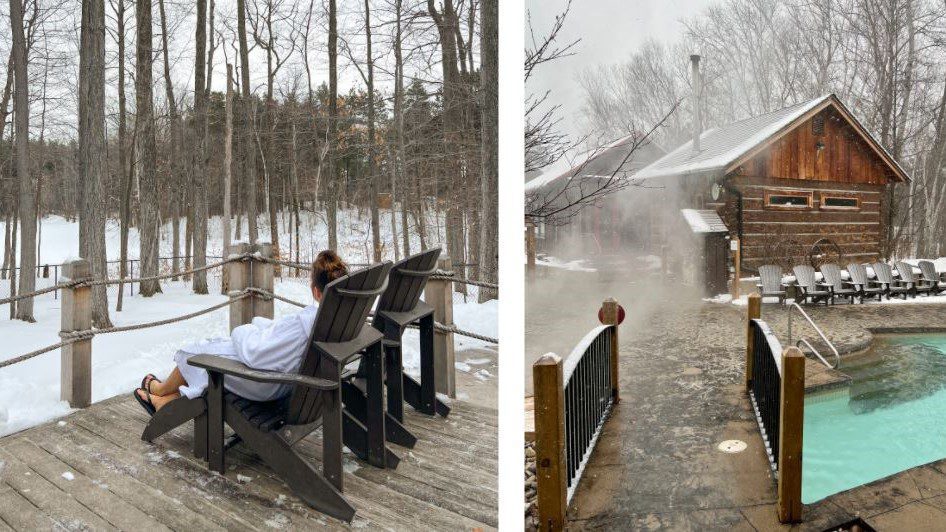 Going off Grid
The spa also promotes silence and disconnection from the outside world, which yes means… no phones allowed. Although it feels like a daunting request to many, the fact that these two requests typically feel so challenging to people is the very reason why they are so important to implement during an experience that promotes healing and a connection between body and mind. As the population has become more accustomed to working from home, we are not fully separating our work lives from our personal lives. Being in a location that requires you to do so, may be the only opportunity you have to truly disconnect and look inward; to really listen to your body, be present in the moment, and take in all of the relaxing and rejuvenating sensations of the Scandinave Spa.
Benefits of Hydrotherapy
On top of forest bathing, the spa's hydrotherapy amenities encourage a cycle of hot-cold-relax, which is proven to both energise and rest the body; deepening the healing experience. Although the cycle seems simple, by immersing your body in water at various temperatures, paired with moments of relaxing and doing nothing, it can actually have a systemic impact on the body; improving circulation, muscle tension, detoxification, and the release of endorphins! The spring and summer seasons are perhaps the best time to fully immerse yourself in the benefits of the circuit, especially the cold plunges, which provide a very unique and invigorating sensation. On top of the hot tubs and plunge pools, there are a variety of different relaxation opportunities throughout the grounds, both inside and outside. So whether you prefer to relax by a cosy fire, or in a glass room surrounded by trees, you're guaranteed to find a spot that you can sink into and escape.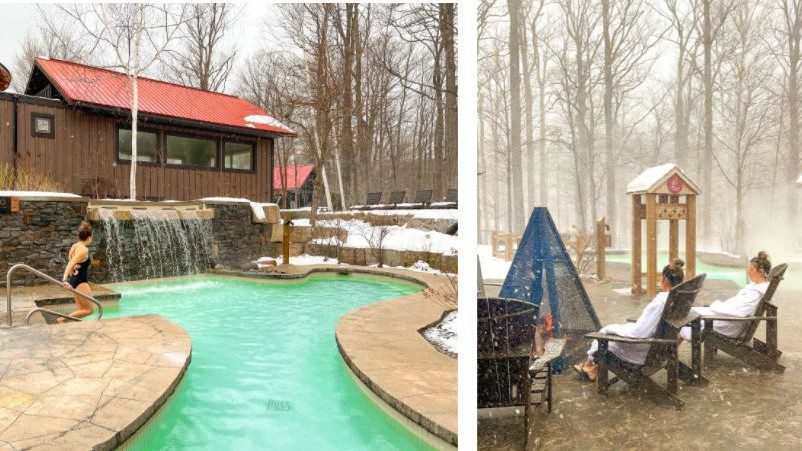 It doesn't stop there! On the spa grounds there are also saunas and steam rooms which also provide unique health benefits. The dry heat of a sauna can help relax and loosen muscles, where the humid heat of the steam rooms can reduce conjunction, promote skin health, and can even improve your cardiovascular health! The eucalyptus steam room not only provides the health benefits, but also smells amazing.

Prioritising Self Care
As we begin to have more access to self-care facilities, it is essential to prioritise self-care as a proactive step in avoiding burnout. Those in front line and nurturing roles have been especially impacted over the past two years, and many have the resources and benefits to put self-care at the forefront of their personal health journey. In addition to the self-guided portion of the Scandinavian experience, you can also book a personal or couples massage from one of the friendly and knowledgeable Registered Massage Therapists who will customise the massage experience to whatever your body needs. If you have not booked your massages yet this year, don't forget to check your coverage. And don't wait until the end of year! The Scandinave Spa helps you to plan in advance by opening the Massage schedule 4 months ahead, so it is best to book early to get the most availability. Aiming to book at least one massage a season will help to maintain a more consistent sense of wellbeing, rather than waiting until you are already starting to feel stressed and burnt out.  If you were looking for a sign to start putting your health first, this is it!
Overall, enough cannot be said about the amazing benefits you will get from immersing yourself into the experience that the Scandinave Spa Blue Mountain provides. With the mutually enhancing combination of the hydrotherapy, relaxation, and forest bathing, paired with the opportunity to wholly disconnect with the outside world, it helps deepen your connection with yourself and nature. You will leave the spa feeling a restored sense of calmness, clarity, wellness and energy! Be proactive and make sure to take care of your body and your mind in the present, so that you can prevent your body and mind from ailments in the future.
Blog Authors:
Megan and Julie are a LGBTQ Canadian couple from Hamilton, ON, who have a passion for coffee and being outdoors. They value health, equity and outdoor/travel adventure. As professionals working in nursing and teaching, they engage audiences who also love health, equity and travel.  Megan and Julie explore the best food/drink, outdoor adventures and local gems in sustainable ways.
Follow Megan & Julie: @out_in.nature