When was the last time you spent quality time with the person you know best? You know; the person you always forget to pat on the back for a job well done; the one who is always there with you, through thick and thin, day and night.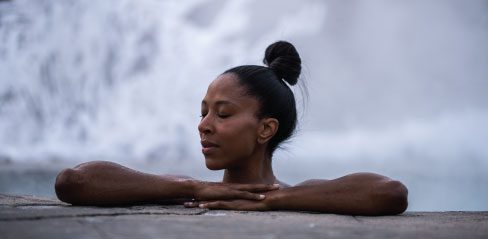 The person we're referring to is you. In the busy lifestyle that many of us lead, we forget to put time aside for ourselves, to relax, sit and reflect on life. We all know that when we take time for ourselves to unwind and do nothing at all, we end up feeling happier and healthier. But the key is to find the "Me-Time" that allows us to de-stress and rejuvenate.
Don't feel guilty about planning time for yourself.  This small act will help you to recharge and become a better person, parent or partner. The best way to enjoy "Me-Time" is by finding a quiet relaxing place that is free from distraction.  Scandinave Spa Blue Mountain is the perfect spot to enjoy this kind of atmosphere.
With a quiet and tranquil environment, the soul is able to see what was once elusive. Silence clears a path for thought and reflection. At Scandinave Spa, silence is at the heart of the experience so that you can realize complete relaxation, wellness and rejuvenation.
Plan a "Me-Day" and visit Scandinave Spa on your own. Don't let the thought of being alone intimidate you.  Within a few minutes of arriving you will be happy you did.
Here's how you do it:  Take a weekday off – consider it a check-up at the Spa not the doctor's office. Week days are quieter and less busy days at Scandinave Spa and you can claim your Spa experience through your health plan, if you have a registered massage treatment. Then book a package that allows you to completely unwind. We suggest the Solace & Savour Package. It includes a 60 minute Swedish massage, all day access to the Scandinavian Baths, lunch at the Bistro and a stainless steel water bottle to take home & keep you hydrated during your visit.
On your day, make sure you have packed everything you need for a day of relaxation and reflection.  Don't forget to grab that book off your nightstand that you've been meaning to read for the last six months, and your favourite flip flops and the fluffy robe from the back of your closet that you no longer seem to have time to lounge in around the house.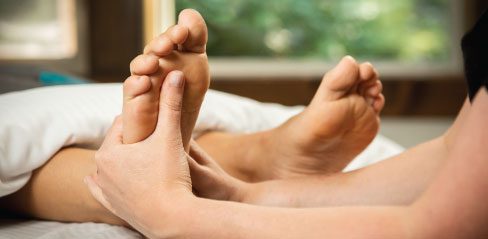 Once at Scandinave Spa Blue Mountain, take your time and don't rush yourself through the experience. We suggest arriving a couple of hours before your massage to enjoy the Baths and loosen up. After your massage, have a bite to eat in the Bistro with the company of your book. Finish the day by relaxing in the Baths once more, listening to the sounds of nature and soaking away your troubles.  Only make your way home, once you feel completely recharged.
If we still haven't convinced you of the benefits of visiting the Scandinave Spa alone, there are a few more perks we haven't mentioned that might change your mind. Visiting the spa alone gives you the opportunity to plan your day the way you want. There is no stress of having to work around other people's schedules to plan a visit and you can arrive and stay as long as you want.
The Baths circuit can be completed your way, without feeling the obligation to stay together with a companion. Hot Baths, cold plunge, Muskoka chair. Eucalyptus steam room, Nordic waterfall, hammock, it's your choice; you decide.  Finding a hammock is also easier since you don't have to find two side-by-side.
Every person should try visiting Scandinave Spa Blue Mountain solo. It is an experience like no other. After a day of relaxation and reflection, we promise that you will leave feeling refreshed and rejuvenated both physically and mentally. Book a "Me-Day", you'll be happy you did!