Guest Blogger: Dustin Woods, photos by John R. Walker
Dustin Woods is a full-time PR professional who sheds his corporate skin on weekends and holidays to write about his jet set travel adventures both in Canada and abroad.
The older I get the busier and more hectic my life becomes, it seems. Occupational duties, familial obligations, mundane daily responsibilities and the financial stress associated with being an adult can way you down, tense your shoulders and burden your mind. As much as you may want to drop everything at times and escape to a deserted island oasis, leaving your life behind is not always feasible or realistic.
Life is short. It can also be a lot shorter if you don't take care of yourself. It is important to know your limits and realize that you are most productive when you are happy, healthy and relaxed. While I would have balked at running 20 kilometres or attending yoga classes just a few short years ago, both have become weekly rituals for me in order to recharge my body and mind alike.
You may not think that a normal weekend is sufficient time to wash away the tension built up by the daily grind. How much can you really wind down in between quitting time on Friday afternoon and roll call Monday morning? You'd be surprised.
I recently spent just a couple days in Collingwood and came home relaxed, refreshed and rejuvenated. Closer than you might think but far enough from the rat race to feel like a real vacation, we checked in to The Westin Trillium House overlooking Blue Mountain Village which looks like a Norman Rockwell painting when the snow is flying.
After an excellent dinner at Sisi Trattoria in Thornbury, we spent a relaxing evening by the fire with a nice bottle of wine to rest up for an incredible day of skiing at the Alpine Ski Club. There is no more relaxing way to release the stress of the week like a day of spirited runs down the ski hill, unless of course you decide to après ski at the Scandinave Spa.
Free from the frenzied distraction of e-mail, phone calls and various distractions from handheld devices that monopolize my time and attention, just piloting my Volvo XC60 through the lush forested entrance route as the snow flew slowly reduced my stress levels and returned my blood pressure to normal levels. Being fortunate enough to visit several Scandinavian Spas in Scandinavia during my various worldly travels, I can say with authority that the Scandinave Spa is as authentic as you can get without actually flying to Sweden.
I treated myself to a calming yet firm hour-long massage to soothe my tired, aching muscles after a day on the slopes. I have learned that the tension of my daily life manifests itself in two distinct ways; tightened shoulder muscles and sporadic insomnia. After merely an hour on the table in the capable hands of my masseuse, not only were my shoulders as malleable as warm Jell-o but I had also fallen into a deep, restful slumber mid-massage.
It was then time for a little Hydrotherapy, whereby the thermal recuperative and healing properties of water are used to revitalize and restore health and wellness. Entering the serene Scandinavian Bath area surrounded by a lush forest, a feeling of total tranquility flowed through my body. The renowned Scandinavian Baths include a Finnish Sauna, Eucalyptus Steam Room, Thermal & Nordic Waterfalls, Hot Baths, Cold Plunges and relaxation areas where nobody uttered a word. There was no need to. The silence provided time for thought and reflection. Rather than relying on distractions like television or music, I was able to reach total and complete relaxation.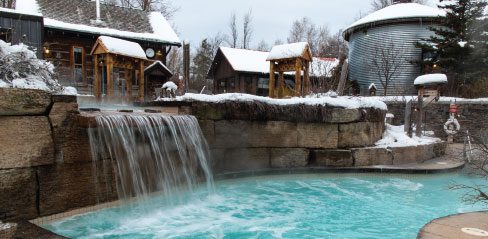 The hot and cold water stimulates reactions in the body that not only relieve stress, but soothe the skin and muscles, calming your organs and improving circulation. After only a couple of hours at the spa, I left without a care in the world. While I had only been away from home for two days I felt as though I had been to Sweden and back without suffering the unwanted hassle of airports, jetlag or airplane food.