When I'm feeling stressed my go-to place to rest, relax and reset is the Scandinave Spa Whistler. When COVID-19 hit I was equally challenged by facing a hugely stressful situation, and my favourite stress reliving spot being closed. After months of getting by with YouTube yoga classes and bubble baths at home, I was beyond excited to hear that the Scandinave Spa Whistler reopened on July 3.
With all the rules surrounding social distancing, I couldn't help but wonder what to expect. What would be open? What new rules would there be? Would it still be the same great experience I had come to love? To find out for myself, I packed my bathing suit and ventured out for a much-needed day of relaxation. Since you're probably wondering the same things I was, I'm here to share what I learned from my first visit back to the Scandinave Spa Whistler.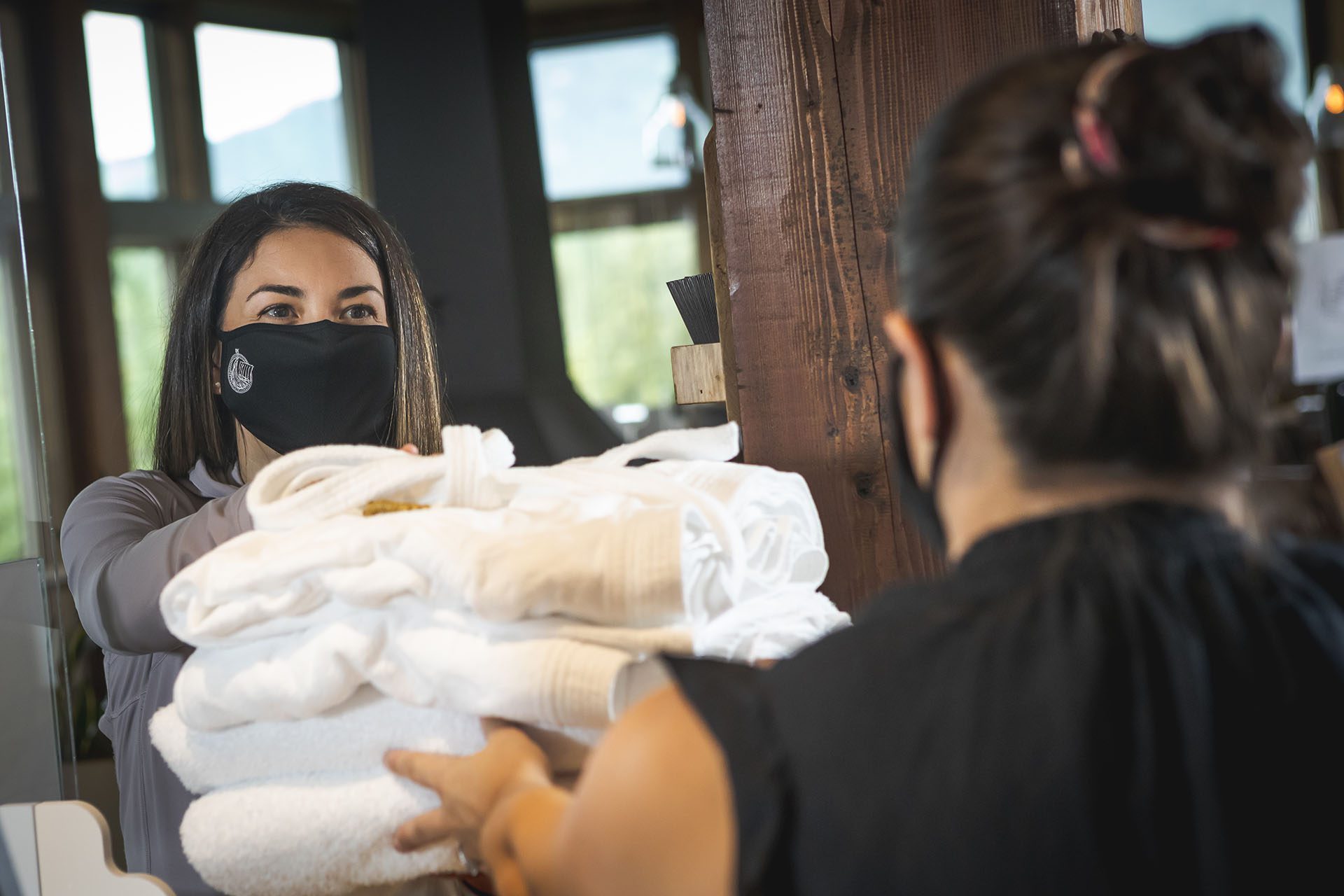 Check-In
The process of checking in is pretty similar to how it was pre COVID-19. They've installed plexiglass dividers on the check-in desk and there are social distancing markers on the floor. To save crowding inside they've also added an additional line up outside the main doors when it's busy.
Don't forget to pack your favourite facemask.  You're required to wear one while in the lobby, change rooms and during massages. They do have some available for purchase when you check-in. If you feel more comfortable wearing a mask throughout your visit, you are welcome to do so as well.
As before, the baths work on a first-come, first-served basis for entry. If they're full, you'll have to wait for people to leave before you can go in. As they have reduced capacity by over 50% there might be a waitlist. You can roll the dice and show up anytime during opening hours (the shortest wait is right when they open at 10 a.m., or later in the evening, after 5 p.m.), or you can guarantee entry by booking a massage. If you're in town for a limited time, or you just hate waiting around, I highly recommend booking a massage. They have RMT's, so you can claim it on your benefits.
You'll be asked to fill out a quick health survey and provide contact information. Once the survey is done and you're checked in you're given the regular two towels and a lock.
Change Rooms
In the change rooms, they've restricted every other locker to give you more room when changing. Remember to rinse off in the beautiful newly renovated showers before heading to the baths or to your massage.

The Spa Grounds
To my great happiness, all of the spa experiences were still available (with some small tweaks).
Firstly, the walkways are marked for one-way travel to encourage physical distancing. There is no backtracking. If you want to access something behind you on the path, like going to the upper steam room from the top hot pool, you need to do a full lap around. This did cause me to do a bit more walking than normal, but after quarantine, I could use the extra steps. Since there is two of each feature on-site, it is also a good excuse to check out something different.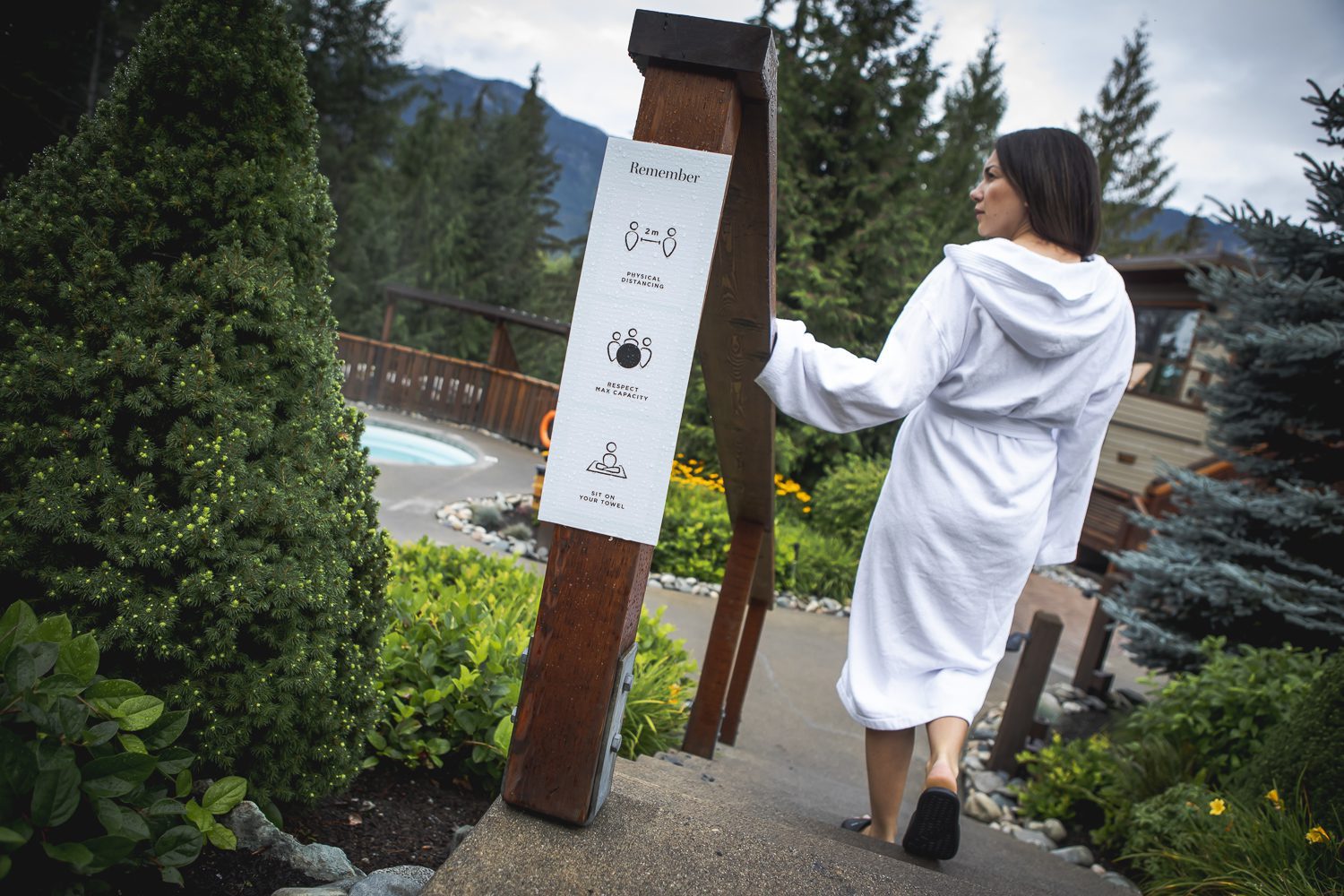 All of the features are also now marked with maximum capacity signs. For example, the lower hot pool allows a maximum of 10 people at a time. The extra space was actually pretty amazing. Just make sure you to do a quick count and that there is space available before using a hydrotherapy element.
You will also be using your towel more. Any time you sit down on a surface including the benches in the sauna you need to use your towel. If your towel gets too wet, you can exchange it for a fresh dry one from reception upstairs.
If you were a big fan of the indoor beds for a nap you might not love this part. They have reduced the number of beds, and the ones still there are now without pillows to allow for better cleaning protocols. I wouldn't stress too much about this. I didn't find it to be an issue at all because the reduced number of guests meant that I had no problem getting a hammock or day bed whenever I wanted.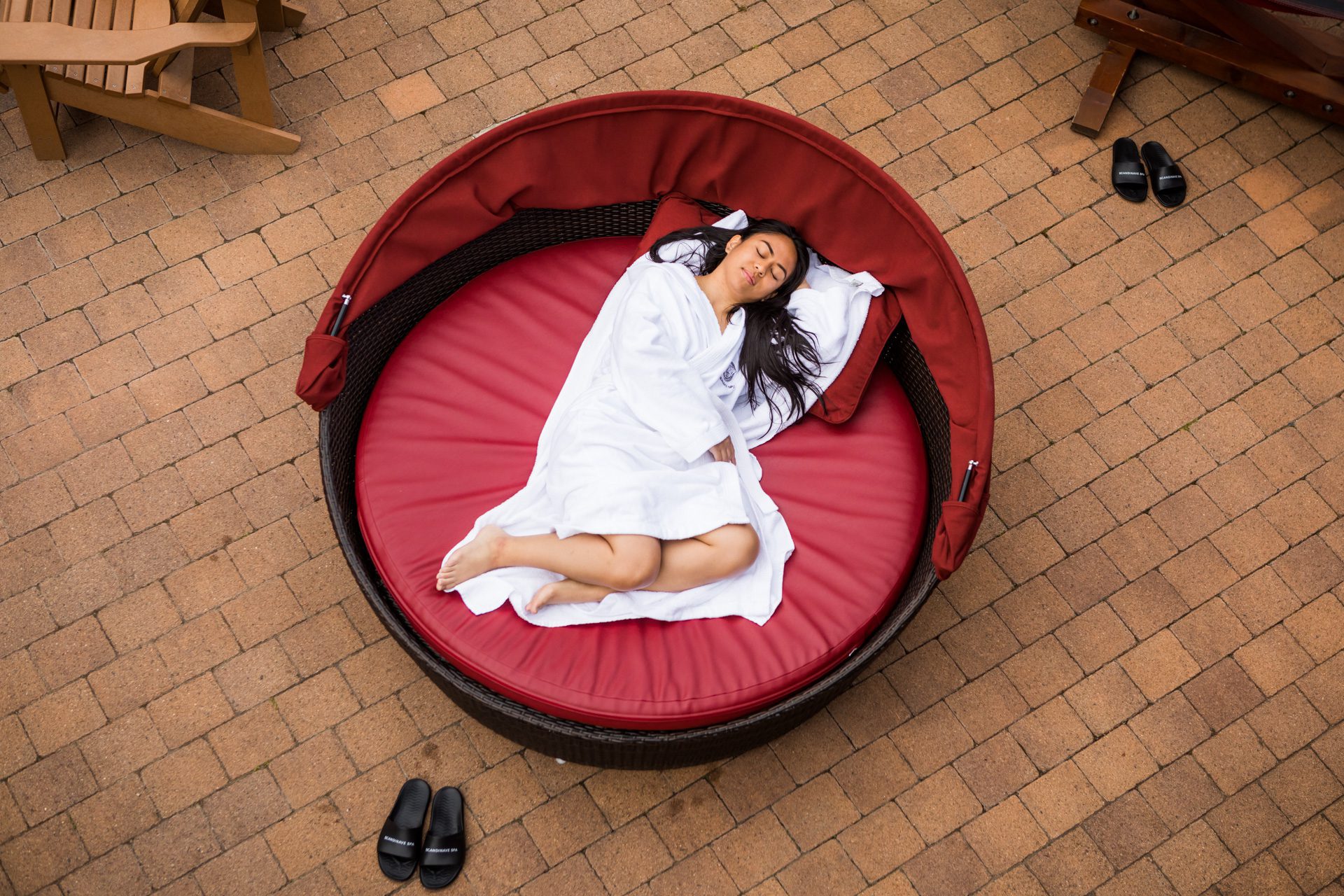 While I was anticipating having things taken away because of COVID-19 procedures, I never considered that there would be new experiences. Since reopening they've added new circular day beds. They feel like a personal cabana, the perfect place for an outdoor nap.
Long story short, what you can expect from the Scandinave Spa Whistler post COVID-19 lockdown changes is pretty much what it was like before. The pools are still piping hot, everybody is still silent and blissfully tech-free, the steam still smells like eucalyptus, and nobody is happy about doing a cold plunge.
The best way to find out what it's like now is to come and see for yourself. They're open seven days a week with discounts on 9 a.m. or 8 p.m. massages, Monday-Friday. See ya there. I'll be the one passed out in Hammock Haven.