Restorative Après
Even if you ski regularly, a big day on the slopes can leave your legs feeling like jelly. When most people think of après it usually involves drinks at a slopeside bar. Why not try something new, and do your body a favour by swapping out drinks at a bar for an afternoon/evening at the spa? A couple of hours of restorative hydrotherapy will not only feel amazing, but it will also help you to rest and recover for the next day on the slopes.
For even more healing we recommend a massage with one of our massage therapists. They're specialists at treating ski weary bodies.
Learn how to get the most from your massage – How To Maximize Your Massage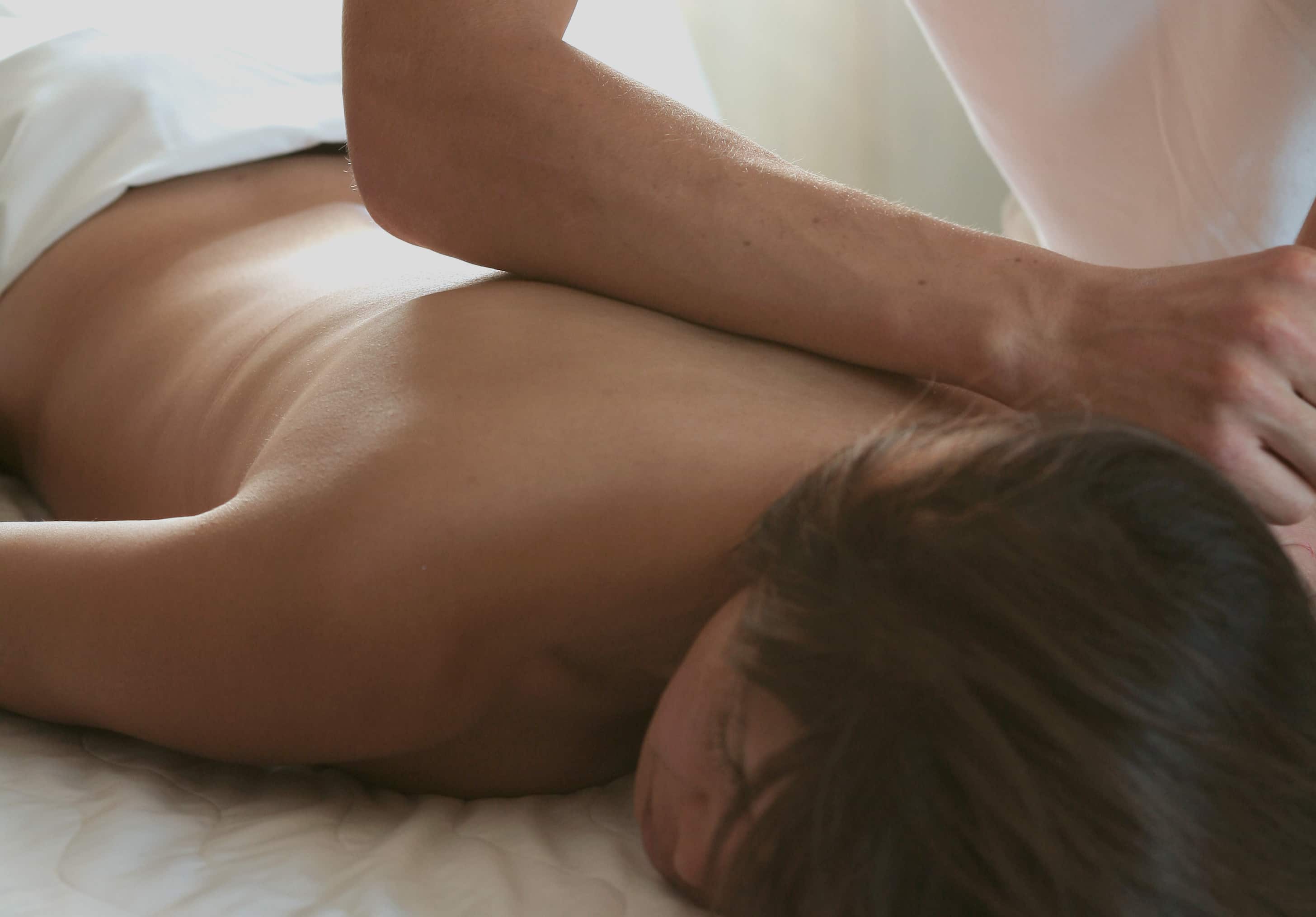 ---
Bask in a Winter Wonderland
Love the look of winter, but hate being cold? You can embrace the season through in comfort at our cozy winter wonderland. Imagine watching snowflakes fall around you from the comfort of a piping hot pool, fireside, or through the glass of a heated solarium. It's is an experience that will warm your body and soul.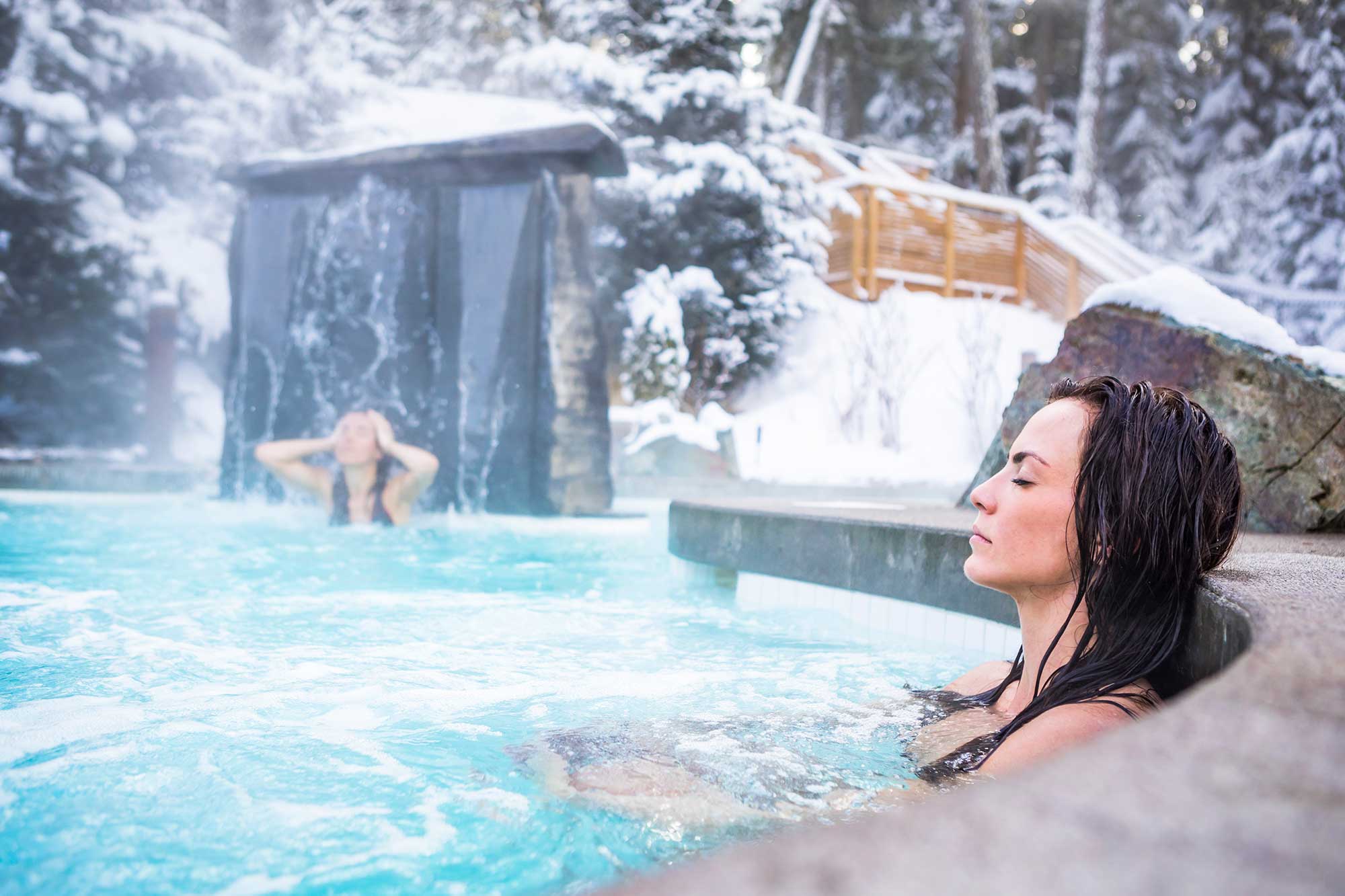 ---
A Haven For Non-Skiers
Whether it's you, or someone your visiting with, it's not unusual for there to be at least one person in the group who isn't here to ski. There's no need to drag the non-skier up the hill if they aren't interested in it. You can spend the day apart with them exploring our spa, and you the ski slopes. You can even meet up for some spa time together when you are done skiing for the day.
If your non-skier friends are looking for other off-hill activities, our spa is located beside Lost Lake, home to snowshoeing and cross-country skiing. They can spend a bit of time exploring the trails before coming to the spa.
Learn about the benefits of adding some forest exploration to your time at The Scandinave Whistler.
HEALED BY NATURE: The Benefits of Adding Forest Bathing To Your Visit
---
Warm-Up
Even the most winter hardened Canadians can catch a chill on a midwinter's day. For those days that have you feeling cold to your core, the best cure is a few rounds of hydrotherapy. It might sound crazy, but even the cold plunge helps you warm up by causing your body to divert the freshly heated blood to your core. A few rounds of soaking, plunging and relaxing fireside will have you feeling thawed out.
---
Perform Your Best
From charging through trees and moguls to pushing your limits dropping cliffs and sending booters, skiing and snowboarding can be an extreme mental and physical challenge. A common sentiment we hear from our current and past ambassadors is that they use the Scandinave Spa as a place to heal both body and mind.
The hot pools help to melt away muscle and joint pain, while the solariums are the ideal environment to let your mind wander to either work out or just forget your day to day problems for a bit.
There's no better time than now to start planning your visit to The Scandinave Whistler. We're open daily from 10 am-9 pm. We can be busy over weekend and holiday periods. We recommend booking a massage for immediate guaranteed spa access.